Perform this at your own risk!
Not my fault if YOU do something wrong!
At the moment, this bypass works on any Civic/Accord from 1994 to 2006 that is equipped with an ELD.
Late 2006 and newer models, the ELD wire colors have been changed, but the process remains the same. Updated the wire colors in post #4.
This was a diagram from keep_hope_alive over on the Accord forums, to bypass the ELD (Electronic Load Detector) on Honda Civics and Accords that are equipped with the nuisance lol.
This is my first How-To, so bear with me lol
The ELD is a device that gathers data from the ECU and the engine to figure out when your alternator needs to increase the charging voltage (14.4-14.6), or run in standard, non-high output mode, which leaves you charging at 13.2-13.6. Which really sucks when you have an audio system and you need the voltage to remain high.
What you need:
Standard relay (1)
Relay wire socket, recommended (1)
Single pole/Single throw switch (1)
1/2 Watt, 820 ohm resistor (1)
Extra wire, I used 6ft lengths of wire just incase. 3 runs of that.
Solder
Soldering Iron
Links for the lazy

Resistors - 10 pack:
http://www.parts-exp...tnumber=002-820
Relay:
http://www.parts-exp...tnumber=330-073
Relay Socket:
http://www.parts-exp...tnumber=330-075
Switch:
http://www.parts-exp...tnumber=060-776
I used crimps and electrical tape because my iron just went out on me, all crimps are tight and nothing is moving, don't worry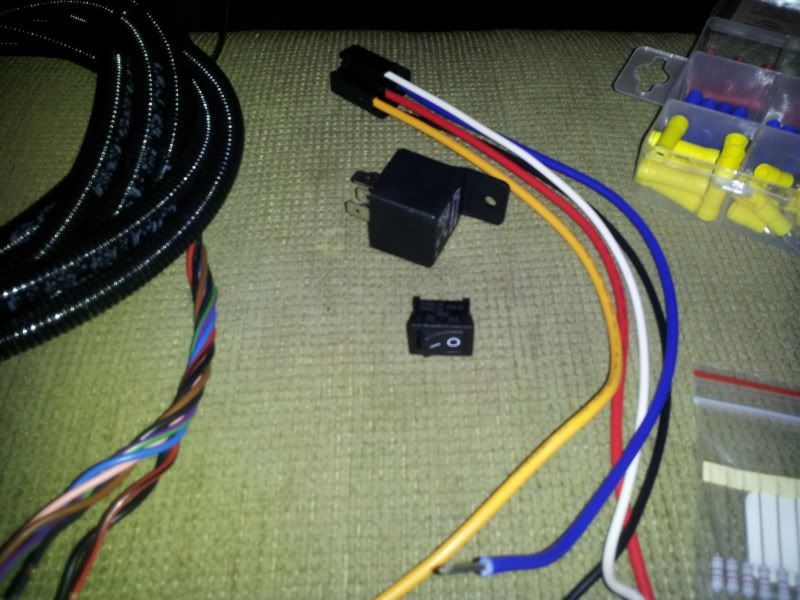 Prep the ends of your wires for soldering (or crimping and taping in my case)
Edited by HatersGonnaHate, 01 May 2012 - 11:40 AM.